Step by Step Tutorial for creating and joining a custom game lobby in Dota 2:
How to create a Dota 2 Custom Game?
Open Dota 2 and click on the button "Play Dota".
Now choose the tab Custom Lobbies and click on "Create"
Your Dota 2 custom game lobby will automatically be created. You can click on the edit wheel button on the bottom to change the name of the lobby.
Invite your friends and tell everyone the gamename.
As soon as the slots are full you can start the game!
To get to know all lobby options view our instructions below in this article!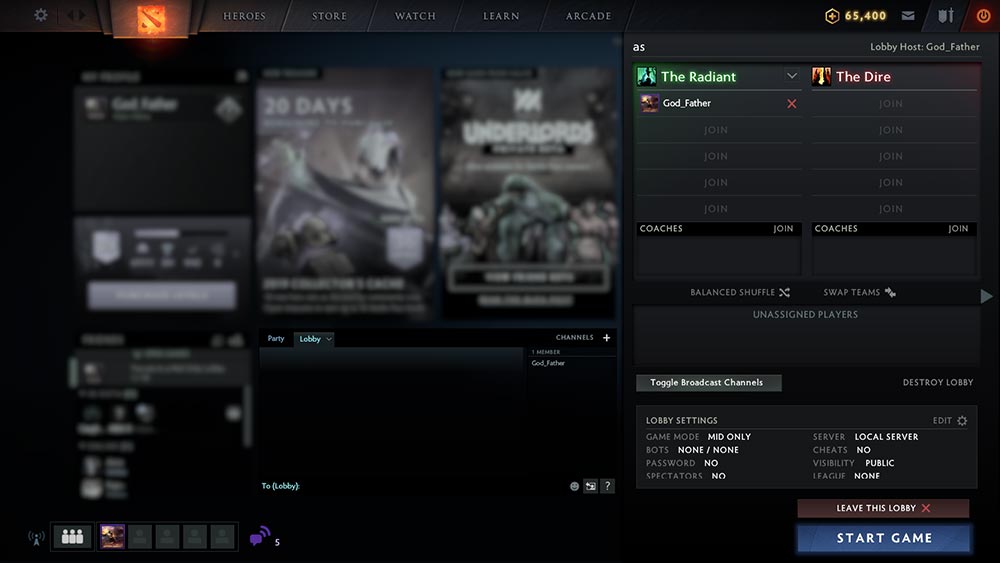 How to join a Dota 2 Custom Game?
Click on the Play Dota button and choose "Custom Games".
Now the Dota 2 lobbies of your friendlist will be displayed, if not check if "Browse by" is set to Friend Lobbies.
Join the lobby.
Choose your team by clicking on a slot.
Below you can find all the custom game lobby options and features explained in detail. 😉
What are Dota 2 Custom Games?
Besides playing a matchmaking or normal match, Dota 2 also allows creating custom game lobbyies, where you can play with bots and friends. They are mainly private, and not a public match like Dota 2 funmaps.
These custom lobby matches can not be ranked matches and are not as balanced as official matches, it's up to the host to create a great balance, it can help using the balance button. Dota 2 custom games are often used for clanwars and leagues like the Join-Dota-League, but of course you can also host matches to play against bots and above all for the reason to play Dota 2 offline if you have no internet connection!
All Dota 2 Custom Game Lobby Settings explained:
If you are the host of a Dota 2 lobby you have the following options:
First of all on top of the sidebar, two divisions will appear radiant and dire. Select the side!
Below the team separation, a Dota coaching column will appear. If there are more than 5 players in a team, then they can act as a coach and guide the team.
Below the Coaching column, two options will appear: Balanced shuffle and swap team. Balanced shuffle will create an equal level team.
To open the settings for the Dota 2 lobby, simply click on the wheel at the bottom! This settings window will appear:
Six options will appear: Game name (Name of the lobby), Game Mode (Mid only, Three Lanes etc.), Lobby Password (To avoid getting random players in a team, Server Location (Local Host), Lobby Visibility (Visible to Public or not) and Enable Cheats.
Below these six options, there is an advance lobby setting option. It is not necessary to make changes in that option.
Some Dota 2 players like to broadcast their match. If you want to do the same thing below Balanced shuffle and swap team. There is an option toggle Broadcast Channel. Click on it and select the desired channel.
Which Custom Game Modes are available for Dota 2 Lobbys?
If you click on the Play Dota button, many different custom game options are available, let's have a look which custom game mode you can play and what it is for!
When choosing a mode like practising with bots, you even have the option to play it solor or as a co-op! Both are a subcategory of Practice with bots, but they are entirely different from each other. Both methods have a crucial role because one mode can make a Dota 2 player face five abandons. Let us discuss both categories briefly! 😉
Lobby for Friends & Clanwars
Practice with Bots (Solo Mode)
Practice with Bots (CO-OP Mode)
1. How to play a Dota 2 Clanwar with a custom game lobby:
Besides playing with friends the custom game lobby is also perfect for leagues, Dota 2 pro matches and custom tournaments from third-party websites:
A team of five people can sign up for a tournament or league and when the event starts, you will get the password. Now just click on the browse custom games button and search for the lobby, it can be password protected so that no one will join who is unwanted! 😉 If you are the host, also always keep the ping in mind, to ensure great games.
2. How can I play Dota 2 offline with Bots?
The "solo mode" on the Practice with bots tab, is usually utilized by those players who want to improve their gaming skills. Most pro players use it to enhance their strategies to defeat the enemy team.
Beginner players mostly use the solo mode to improve their abilities or to check out all the heroes and their characteristics. A solo mode is also a life-saving option for die-hard fans of Dota 2 who wants to play Dota all the time but they cannot play because of a wooden PC or crappy internet connection. 😉 The solo mode can be played offline and it can be left anywhere anytime. Keep in mind that you have to log into Steam with an active internet connection every two weeks or your account will be blocked temporarily.
The solo mode has multiple options in it. First of all, select the bot script: Default Bot, Ranked matchmaking AI, and check workshop.
Then select the difficulty level of the bots according to your gaming skills. If you are a noob go for Passive or Easy bots otherwise Unfair bots will beat your ass. Then select the desired team: Radiant, Dire, or random.
3. What is the Dota 2 Bot "CO-OP" mode for?
The CO-OP mode is the perfect training area for friends and teammates, here you can train specific tactics, hero combos, lanes and item synergies which are too risky to play directly in matchmaking games. Dota 2 has so many heroes, give the ones you like a try. In the global and aoe ability post you can find great synergies and tips. A super cool way of doing this is to search for new Dota 2 tactics and laning styles and to test it in CO-OP mode. Do it again and again until it is perfect, and then join the matchmaking games to stomp the enemies with the crazy new tactic.
To give an example you can search for tactics how to make Roshan after a few minutes with two or three people! 😉
The Co-op mode in Practice with bots is also for those players who have penalty games. Abandons are maybe the most irritating feature of Dota 2: However, it is also necessary to reduce trolling players from servers. Co-op mode is almost like matchmaking but a little bit different. In Co-op, your allies are real gamers, but your enemies are bots.
Rest of the features are like Solo mode, the same options will appear: Select the script, select the difficulty level, and select team!
But keep in mind here to not leave the game until it ends! Otherwise, you will receive a gift from Gaben again! 😀 Select the level of difficulty to easy or passive because it will increase the chances of winning. If your rank is good and it still gets hard even to beat passive bots then it is better for you to stay in low-polarity! 😉
Sometimes it gets necessary to increase the win-rate: For this, it can also be efficient to use the Co-op mode! In Co-op mode, your win is in your hands. The more paper bots a player will select the high chances of winning it has.
---
Any questions? Comment below! 🙂
For more Guides and News checkout our Dota 2 Dashboard.